Home
Talk

7
92pages on
this wiki
Welcome to Sora no otoshimono Wiki!
An encyclopedia about the Heaven's Lost Property/Sora No Otoshimono Manga and Anime series, and a community for the fans who love them! We are currently editing 92 articles which anyone can help edit. If you are interested in this wiki's statistics you can click here to display them. You can view recent changes here.
---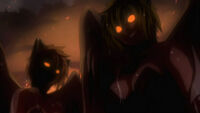 Harpies
The Harpies are hunting Angeloids of Master of Synapse, at their command, they search the Uranus Queen in order to get her back to her former master, with that in mind they will do anything to make that happen...
2014 Movie replaces Third season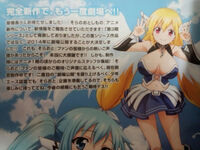 While fans were generally hoping to hear about a third TV series, news has some that a second Heaven's Lost Property (or Sora no Otoshimono) anime movie is in the pipeline for continuing the ecchi franchise in 2014.
Anime
「明日に羽飛く彼女達(フォルテ)」 (Asu ni Hapataku Kanajo-tachi (Forute)) "The Girls (Forte) Flapping Their Wings in the Morning"
After the battle with Chaos, Tomoki and the others return to their normal lives and decide to go to the pool to relax a bit, but as usual, Tomoki takes advantage of the situation to "play" with the girls who were there.
---
Manga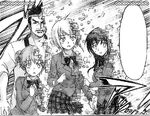 Demise
After Sugata travels to Synapse led by Chaos, the truth is shown to him and the world suffers the collapse of this knowledge.
Of the first five episodes of Sora no Otoshimono Season 1, which is your favorite?
Previous Poll
Who is your favorite Angeloid?
| Rank | Poll | Votes | Percentage |
| --- | --- | --- | --- |
| 1st | Ikaros | 153 | 48.26% |
| 2nd | Chaos | 60 | 18.93% |
| 3rd | Nymph | 46 | 14.51% |
| 4th | Astraea | 27 | 8.59% |
| 5th | Hiyori | 24 | 7.57% |